Welcome!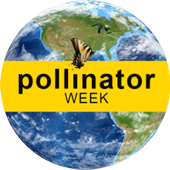 June 22-28, 2020
►www.pollinator.org
From June 22-28, 2020, we're celebrating the incredibly vital role pollinators play in our ecosystems with National Pollinator Week! Each year, NACD celebrates this important week, facilitated by Pollinator Partnership (P2).
Pollinators play a crucial role in plant reproduction and in the production of most fruits and vegetables. Bees, beetles, bats, butterflies, hummingbirds and other insects help pollinate more than 75 percent of our flowering plants, and nearly 75 percent of our crops, according to the U.S. Fish and Wildlife Service. While these pollinators often go unnoticed as they carry pollen from one plant to another, their work is essential to our daily food supply.
---
The Jennings County Soil and Water Conservation District (SWCD) is a subdivision of Indiana state government. It is responsible for carrying out a program to promote conservation of soil, water and related natural resources within the county. This program is carried out by providing technical assistance, educational opportunities, and cost-share assistance. Primary partners include the USDA Natural Resources Conservation Service (NRCS), various agencies of the Indiana Department of Natural Resources and the Indiana State Department of Agriculture.
Available services and assistance include:
Soil Survey Information
Technical Assistance for Erosion Control
Urban Erosion Control Planning
Historic Maps
Cost-Share Program Information
Rule 5 Review